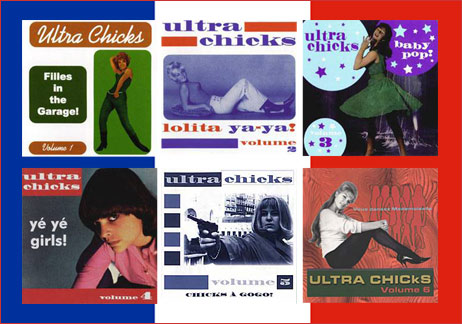 Whoa! Most of you might already be familiar these discs of pure French Pop
foie gras
, but to those who are not, then let me proudly introduce you to the magic of 60s Gaelic Go-Go.
Basically these comps are the girly 60s French Pop equivalent to the Nuggets series - a collection of rare, forgotten and unknown songs by equally forgotten and unknown artists who might have only put out a single EP as their entire oeuvre. The style of music ranges from classic bubble gum yé-yé to fuzzy psychedelic buzz saw with a few slow numbers thrown in. Try as one might to categorize the French 60s sound, it really is its own thing. Happy and bouncy and fancy free.
Non-Francophone ears will find the tunes in this series superior to those of many of the French superstars of the period. Mention any of these artists on the first two volumes to any Frenchy and 98% of the time you will be met with the blank stare, the head shaking and the bewildered expression that you must be mistaken (nothing personal, they can't help it). I have become quite familiar with this over the years. The most well known artist on the first disc has to be Chantal Goya, but the Gauls are going to be more familiar with her 70s children's music than her yé-yé period and appearance as a pop singer (as herself basically) in a Goddard film (Masculin-Feminin).
Naturally then, it took a foreigner, Canadian Denis Lalonde, to put these tracks together for us to enjoy. Four years after the first Ultra Chicks, the French finally put out their own versions and while those are pretty good and have better fidelity, they don't match the quality, panache and affection for the music. And all of those compilations included songs that had already premiered on Ultra Chicks.
Several of the artists in the series have a great number of releases that are available in CD collections that have recently surfaced as their value has finally been recognized. These include (Pink Frankenstein favorite) Stella, Pussy Cat, Joyceline, Jacqueline Taeieb, Nicole Paquin, Chantal Goya, Annie Phillipe, Liz Brady and Gillian Hills.
Discussions abound about which disc is the best, but for my money I would stick with Volumes 1 and 2 if for purity alone - the later volumes feature non-French artists and some popular singers like France Gall. But Pink Frankenstein says buy them all.