The 4 Most Controversial Songs By Serge Gainsbourg
Burning money and revealing one's carnal desires for Whitney Houston on live TV are definitely the acts of a provocateur. But let's not forget about the music, man. In honor of Serge's birthday (April 2) and shameless promotion of our dance party tomorrow night in San Francisco, Bardot A Go Go presents the dirt on the dirt!
#4 – Les sucettes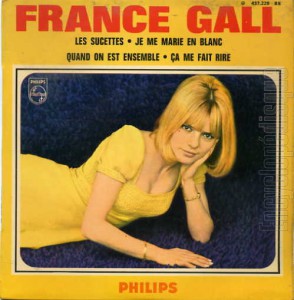 Though he did record this song himself it was originally written for teen pop star France Gall. Unfortunately for Gall, the oral fixation innuendo of the lyrics in a song about lollipops was lost on her. People love to talk about this song and the scandal and there is a lot of myth around Gall's reaction. While the innuendo is there, it's not very overt unless you got a dirty one-track mind to begin with. While it did cause Gall some trauma it earned him brownie points of naughtiness. Every Frenchy knows this story.
Years later, Serge said of Gall – "it was France Gall who saved my life," because until she sang his songs, "when it came to young people I was totally out. Suddenly I existed." Otherwise he might have mired away in the traditional chanson style and Beck would never have had anything to sample.
Here's an excellent YouTube video on the controversary with English subtitles!
---
#3 – Je t'aime…moi non plus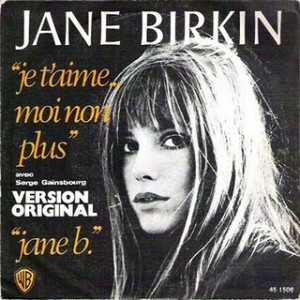 The song he is most famous for, Je t'aime…moi non plus was originally written and recorded for Brigitte Bardot in 1968. It was considered too scandalous for her and that version went into the vaults and didn't resurface until 1986.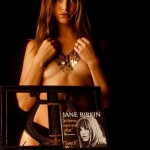 Enter Jane Birkin.
She recorded the song with Serge a year later and it became a top hit around the world while also simultaneously being banned everywhere. What makes it so naughty? It's basically a simulated recording of two people having sex complete with the female sighs of climax. In 1969 this was a big deal. It was not only the first French pop song to become #1 on the British charts but also the first foreign song to do so. Though since it was banned the #1 spot was left empty. It spent 34 weeks on the charts.
Though the sounds of sex are what it's known for, the lyrics are equally provocative:
je vais et je viens
entre tes reins

I come and go
between your kidneys
Jane Birkin loves to tell of getting into an English Taxi cab years after the song was recorded and having the cabby confess that all his children were conceived to that song. 
The song might be the most covered French song with Donna Summer, Cibo Matto, and Malcolm McClaren among the many who recorded versions of it. There used to be a website dedicated to that, but I couldn't find it. (Let me know if you do!)
My favorite version is a parody by Bourvil and Jacqueline Maillan:
---
#2 – Lemon Incest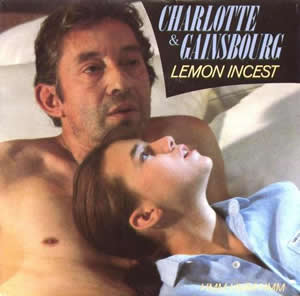 With a funky bass line and tune sampled from a Chopin Étude, the title, as Wikipedia tells us, is a French play on words with the chorus: "Un zeste de citron" ("A lemon zest") and "Inceste de citron"("lemon incest"). The song is a duet with is 13 year old daugher Charlotte and the video below clearly shows the controversy. Serge, Jane and Charlotte all declare that the song is a fantasy and was not based on any reality at all. It's just another in a long line of provocations in the life of a provocateur extraordinaire. As Serge pointed out the key words in the song are The love that we will never make together" / l'amour que nous n'f'rons jamais ensemble.
"As for paedophilia in general, he couldn't understand the attraction, he said; little girls smell of piss on one side and shit on the other." – from the book Serge Gainsbourg: A Fistful of Gitanes.
The song went to #2 on the French charts.
---
#1 – Aux armes et cætera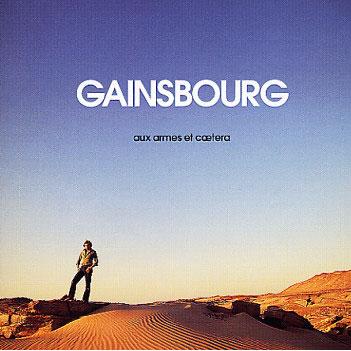 The song that tops our list is the song he was almost killed over.
Always looking for the new, current, hip sound of the day for his songs Serge turned to reggae and travelled to Jamaica to get his roots on. While culturally limited types scoff at Serge's "freggae" albums, it's important to note that the musicians on it are 100% legit: Sly and Robbie and The I Threes featuring Rita Marley. The story goes that when he got to the studio and was talking to the musicians they didn't know any French music and they had no idea who he was. The only song that Sly Dunbar knew was a song called Je t'aime…moi non plus. "That's me!" Serge exclaimed and the rest of the week long session was enjoyed by all.
This time the scandal wasn't the album's sexual explicitness or excremental language or a song entirely comprised of fart sounds as lyrics (based on his book Evguenie Sokolov about a man whose whole life is one flatulent outburst after another). It was what was seen as an attack on national pride that was the problem. Serge took the Les merailles, French National anthem, and put it to a reggae beat mahn, and instead of the traditional "citizens to arms" chorus:
Aux armes citoyens
Formez vos bataillons
Marchons, marchons
Qu'un sang impur
Abreuve nos sillon
Serge reduced it to a lazy, stoned Aux armes et cætera. 
Who did this piss off? Why the French Nationalists of course, equivalent to the current day Tea Baggers. They threatened him with violence, bomb threats and showed up at the Strassbourg concert en masse to protest. They were going to storm the stage out of necessity if he were to start playing it.
"Serge was a hero. Because he stood up against these racists and right-wingers – he who had never made a political statement in his life! The only time I think he voted, it was for (conservative) Giscard D'Estaing, because he thought in a naive way that he would not be tempted into taking a bag of gold under the table because he was such a rich man and an aristocrat." – Jane Birkin from the book Serge Gainsbourg: A Fistful of Gitanes.
When it came time for that song, Serge came out and sang the song alone on stage accapella with no altered lyrics. The nationalists could do nothing but join in. He flipped them the bird at the end. A few years later, Serge got the last laugh. He purchased the original manuscript of the lyrics in auction. 
Flipping the bird to the radical right. That's a great way to end this piece!
Footage of the Strassbourg concert

Serge buying the original manuscript.



Note: In addition to the infonets, I used Sylvie Simmons book Serge Gainsbourg: A Fistful of Gitanesas an indispensable reference. It's available on Amazon with a new cover!