Holy Grail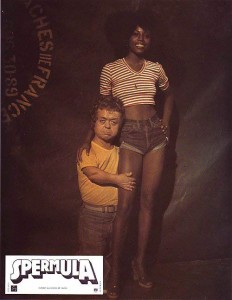 Once upon a time in Paris, I happened to be in town during the summer when the Cinematheque ran their vampire series. I took this opportunity to catch on the big screen several films that a) I would probably never get an opportunity to see on the big screen again and b) see some movies that were missing from my viewing resume. So I finally got to see The Hunger, Al Adamson's Dracula vs. Frankenstein (great title sequence), and Vampyros Lesbos (that's right, on the silver screen!)!!! I'm still kicking myself for missing the Jean Rollin double feature!
You may not know this but the horror genre is basically lacking in French fantasy. So I jumped at the chance to catch a film in the series called Spermula. My French isn't that great and I got lost pretty quickly as to what the hell this movie was about. Something to do with aliens from another planet coming to earth to suck the essential essence from men. Following the narrative didn't really matter the visuals were nutty, sexy and fantastic. It also had Udo Kier in it and I have a fetish for watching film stock from the late 60s through the 70s.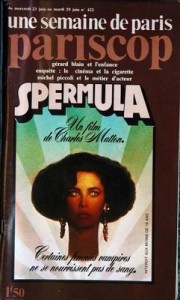 But the highlight for me was during a party sequence when the camera was panning among the party guests. "Wait, who is that…what the… THAT'S NINO FERRER!" I had to nudge my friend and tell him. Suffice to say that he wasn't as interested as I was.
Nino Ferrer gave us some great music and is responsible for a song that EVERY FRENCH PERSON KNOWS. They may not know who sang it, or all the words, or what the name of the song is but you start singing the chorus to the 1966 megahit "Le téléfon" and they'll start singing it with you.
Not only is Nino and his then girlfriend Radiah in the movie, he also has two songs he wrote in it! The hunt was on. I had to have these songs. Many record conventions, internet searches and blank stares from vendors later, I am happy to announce that victory is mine and your's too! You'll find the link to the better of the two songs at the bottom of this post. And you'll definitely be hearing it tonight at Bardot A Go Go.
Here's a clip from Spermula. You can find the American dubbed version pretty easily but it doesn't have the clip of Nino at the party. So I'm looking for the French version which is naughtier as well. But this scene has Radiah. I apologize for the use of the word midget.
There are a couple bare bottoms in this clip and it's so bizarre let's play it safe and label it NOT SAFE FOR WORK
NOT SAFE FOR WORK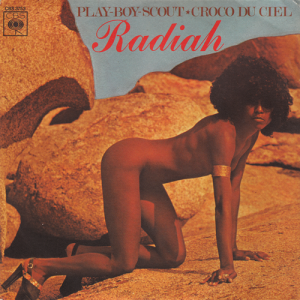 Download: Radiah – Play-Boy-Scout (1976 written by Nino Ferrer and that's probably him on bass.)