Laisse tomber les filles
Probably best described as the French version of "These Boots Are Made For Walking," France Gall's "Laisse tomber les filles" was written by Serge Gainsbourg and is one 60s French Pop song that has enjoyed a huge revival. It was way back in 1994 when my girlfriend came home from a garage sale and handed me a present: This 45 RPM EP that she got for ¢25!: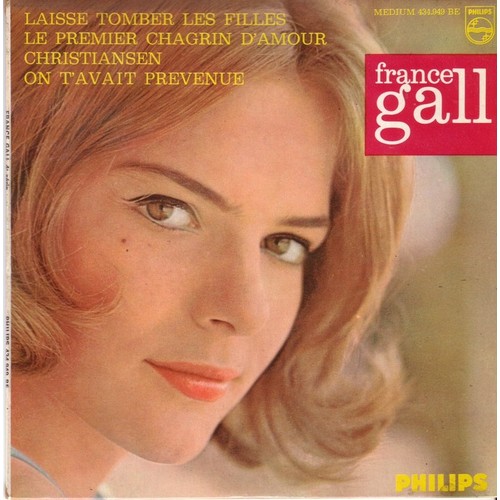 I put it on the turntable and immediately couldn't wait to get on the air at KALX to play it.
A bit of trivia there are actually TWO versions of this EP flying around. I believe this one with the purple box around her name is the original and there is a later version with a green box. I couldn't find a picture so I'll have to get back to you.
Here's the Scopitone:
In terms of covers, April March was the first to jump on the tip back in 1995 with her English language version "Chick Habit." She also did a French version as well. March's version was used in the closing credits of Tarantino's Death Proof and in the film But I'm A Cheerleader.
There's been a bunch of covers and lip synch vids on YouTube! Let me know if I missed one:
April March – Chick Habit
April March – French Version
Fabienne DelSol Rockin'!
Mareva Galanter ! Just discovered her!
Renan Luce Live!
Skye – bluesy version in English.
Dezil – more of a mash up with Pass the Dutchie
Lip syncing girls
Cool animated movie to the song!